In 2007, when Abolongo Prison was established and inmates were moved from Lagbodoko Prison, it was created to accommodate 160 inmates (both on awaiting-trial list and convicts). Unfortunately, this 160-capacity correctional facility, before yesterday's attack, was housing 907 inmates according to a report by the punch. That means people are packed like sardines in that medium.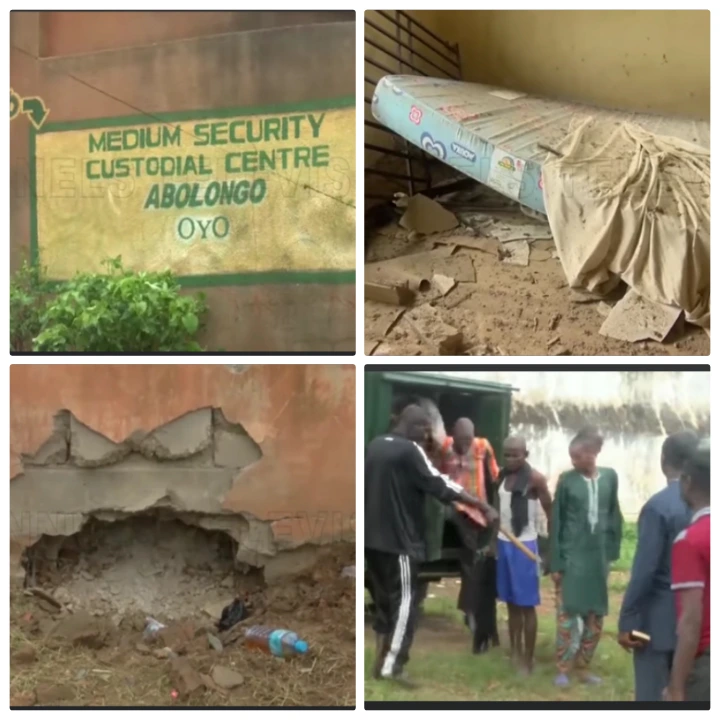 Photo Credit: Channels Television
Out of the 837 inmates, only 64 are convicts. The remaining 837 inmates are on the awaiting trial list. That means 92% of the inmates in Abolongo are on awaiting trial. This is damn wrong. Do we blame the Federal Government through the Interior Ministry? Not really. We cannot heap all the blames on the Federal Government only. The Oyo State Government will share in the blame.
About 70% or more of those on the awaiting-trial list are candidates of either the Oyo State High Courts or the Magistrate Courts. Slow dispensation of justice, coupled with frivolous injunctions, on the part of the Oyo State Judiciary is the primary cause of what happened. Overcrowding, lack of resources, and overstretched facilities will create bad administration of inmates in the correctional facility. Moreover, the facility is a medium-security prison. All these will lead to poor monitoring.
The Federal Government needs to review our laws and remove correctional facility management from the exclusive legislative list of the Federal Government. States Governments, who are the main contributors to the population of inmates, need to take active roles in the management of our correctional facilities through collaborative or counterpart financing.
Also, the Ministry of Interior, under the able leadership of Ogbeni Rauf Aregbesola, needs to install state-of-the-art security equipment and gadgets at our correctional facilities. Security should be beefed up, and the welfare of warders and officers should be well taken care of. Swift adjudication should also be assured so that inmates awaiting trial will be drastically reduced.
This "swift adjudication" is the best solution. We should not accommodate more inmates that outnumber the capacity of any facility. Or courts should always make terms, conditions, and policies of bail more affordable so that there can be breathing space in our facilities. When there is prison overcrowding, the inmates can strategize on how to overpower the warders to break the center and abscond.